GLOVIA G2 Capabilities
©CrescentOne 2022 | 200 Continental Blvd., 3rd Floor EI Segundo, CA 90245
800.713.1450 | marketing@glovia.com | www.glovia.com
Gain more value from GLOVIA G2 ERP - CrescentOne Academy
CrescentOne's GLOVIA G2 ERP platform has proven to deliver outstanding business value. The CrescentOne Academy Courses provide the knowledge and skills required to use this to its full advantage. Our Tracks are targeted towards application managers and end-users.
Gain more value from the GLOVIA G2 ERP platform by using features, functions and capabilities in the application. Get employees up to speed quickly and efficiently.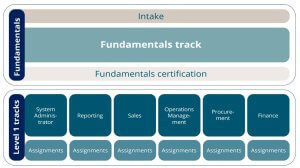 Join us at the Brainport Industries Campus (BIC) or choose to organise the courses on your own location.
For more details download the CrescentOne Academy leaflets below. Direct information about these courses, please email to emea@glovia.com